Band Personnel
Second Story performed and recorded for about eight years, from 1996 to 2004. Our lineup evolved a bit over the years, but once the quintet was solidified, it stayed constant until the group disbanded.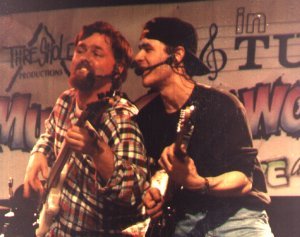 The band began as the brainchild of Scott Lewis and Mark Gollihur; having already worked together in several previous musical projects (progressive hard rock trio Ransomed Soul and our first band, Outcry), we decided to try something a little different this time around. Female-fronted pop/rock was particularly popular at the time, and both of us were listening to groups like October Project, Sarah McLachlan, Paula Cole, Jonatha Brooke, and others within that genre. So we felt that maybe we could try writing and performing in a genre that would be new to us, and find a singer who could take the lead vocals full time; since we had shared that role in our previous bands, having a dedicated lead singer would free us us up to develop our instrumental acuity without worrying about singing and playing at the same time.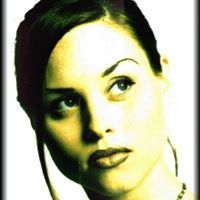 With those goals in mind, we started writing some songs and began to look for a singer. As it so happened, Mark was performing in a theater production at the time, and one of the other actors – Zaughn Ivins – had a wonderful, unique singing voice and a strong stage presence. We asked if she would be interested in joining our fledgling project; she was, and she started working with us to develop our new sound.
Around this time, we decided on the name "Second Story," partly because we liked the alliteration, and partly because it was easy to say, spell, and remember. (I can't begin to tell you how often "Ransomed Soul" was misspelled on marquees and ad sheets for venues). It was also very appropriately symbolic of our new project – as Ransomed Soul was our first "real" performing band, this new one would be, quite literally, our second "story." So it had a nice double meaning as well.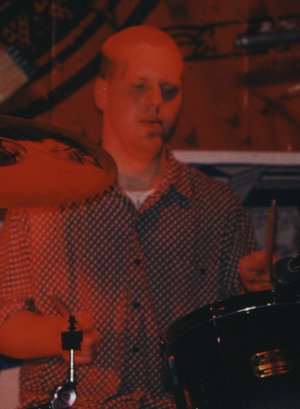 We always knew we'd need a drummer and a keyboard player to complete our quintet. We posted an ad on the bulletin board in our local music store seeking a drummer, and Tom Bardsley soon answered. As it turned out, we had friends in common, and he was a fellow graduate from the same college as we were. After coming over to audition, Tom wowed us with his drumming, had a great attitude, and immediately fell right in line with our musical vision; without a need for deliberation or other drummer auditions, he became Second Story's first and only drummer. Perhaps more importantly, he also became a very good friend, and still is, to this day.
We began writing songs in earnest, as well as re-arranging some songs we'd played in our previous bands (Sometimes and Angry Men are two such songs from Ransomed Soul's repertoire that were re-arranged and updated to fit into our new sound). Around this time, we performed our first show as Second Story (as a trio: Scott, Mark and Zaughn) at an impromptu "gig"in New Brunswick, NJ.
Things were moving along – we had our vocalist, and we had our drummer, and we were even already performing gigs! But our search for a keyboard player continued; that proved to be a little more difficult.
We brought in a very talented player – Ken Gray – for an audition; he blew us away with his technical abilities and his strong, immediate grasp of the material. However, as a popular "on-call" player for several bands in the region, it became clear that he wouldn't be able to put his primary focus into our group, and we decided it was better to find a true "full-time" keyboardist who would be dedicated, first and foremost, to our project.
Scott's brother John would have been a perfect fit, in our estimation – he had been a founding member of our first band (Outcry) and was also very much a fan of the type of music that we were embracing with Second Story – but he was, at that time, writing and performing with his own female-fronted band, Marcella's Dream (aka Under the Willow). So he was, unfortunately, unavailable – but he was supportive of our efforts, and even tried to help us find someone who might be a good fifth member of the band.
Another ad posting brought keyboardist Jason Wisdom into the fold. After an audition, Jason seemed to be a good fit, and we started arranging our songs for the full band. We scraped together enough material to perform our first show as a quintet, with Jason behind the keys, at the venerable John & Peter's in New Hope, PA. The show went well, and spirits were high. But shortly after that performance, we decided as a group that Jason's style was not a perfect fit for our sound, and we amicably parted ways over our musical differences.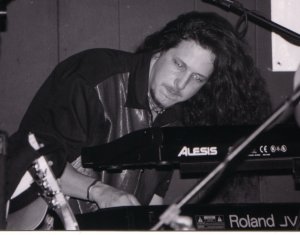 As it turned out, it was around this time that John's group disbanded, making him suddenly available. We brought him in for some rehearsals, and he instantly fit right in. And, since the three of us (John, Scott and Mark) had been singing three-part harmonies together since we were 6-7 years old, we had a great, established vocal harmony blend, allowing for wide, 4-part vocal harmonies. We were (finally) a complete unit, and excitedly got right back into the swing of things, and even got ready to enter the studio to record some of our best songs.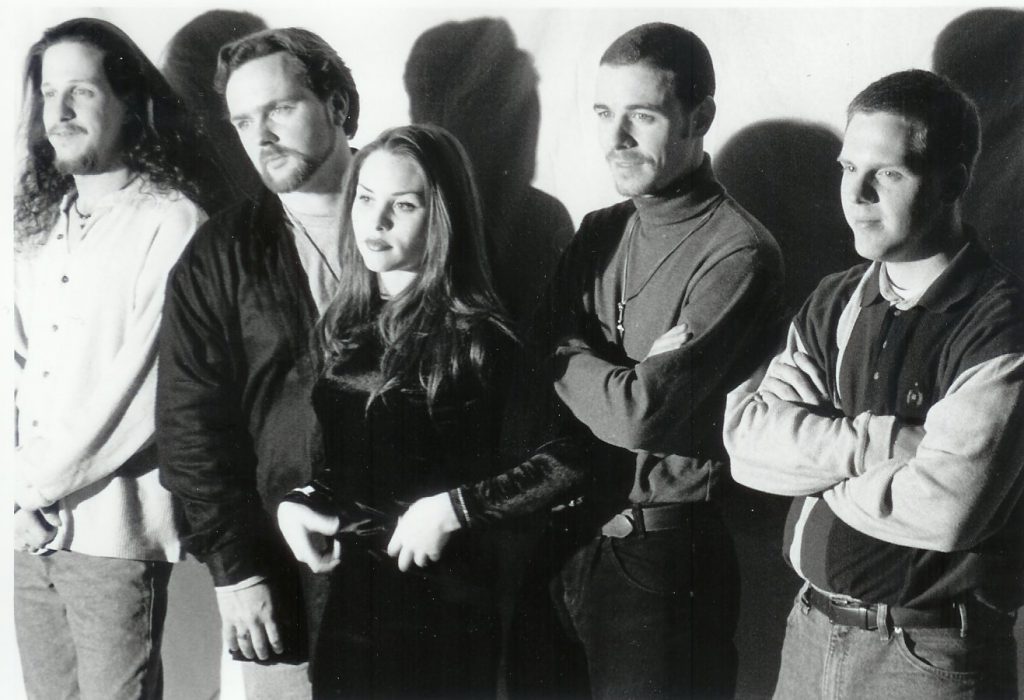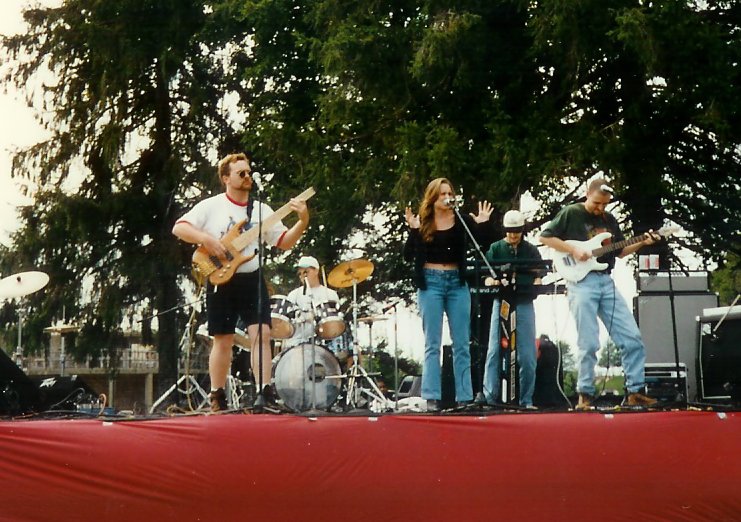 We went into the studio and recorded an EP of songs that we could use to secure new bookings. We started getting regular gigs in the region, including a fun one at Fort Mott State Park's centennial celebration, a second show at John & Peter's, and more. Things seemed to be on the upswing.
But alas, it turned out that there was one more change to make. The oft-dreaded "musical differences" reared its head once again; the rest of us came to the conclusion that Zaughn – while clearly talented – had a tone and style that wasn't quite right for the musical direction that Second Story was aiming for. It was difficult, but the four of us agreed that we had little choice but to part ways with her as our singer. We therefore wished her the best and moved forward in a search for her replacement.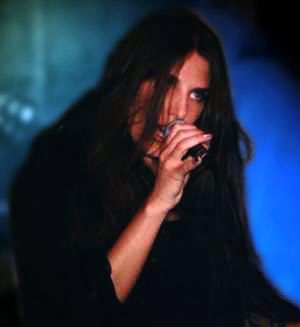 We were subsequently introduced to Danielle Capoferri through a friend, and we sent her some of our tracks from the studio sessions, so she could familiarize herself with our music. A short time later, she visited a rehearsal for a casual audition. As soon as we heard her interpretation of "Wind," we knew instantly that her voice would be a perfect fit for our sound. We invited her to become our fifth and final member, and the lineup was solidified. We were even able to quickly get together enough material for a performance that we already had booked a few weeks later (we even had to play a few rare cover tunes at that one!)
We had our ups and downs – we played lots of amazing shows, as well as, occasionally, some difficult ones that really tested our resolve. We re-recorded the lead vocals on the original EP, and added several new songs to extend it to a full-length album. We released this as our Self-Titled album in 1998. We re-entered the studio in 2001 to record our follow-up, and though major difficulties on several fronts meant that it was not released during the time that the band was active, we were finally able to complete and release that album in early 2020.
In the end, we all value and fondly remember our time as Second Story. The quintet of Danielle, Scott, Mark, John, and Tom is proud of the music we created, to this day, and we sincerely hope that you find it compelling and enjoyable too.