Then
Scott Lewis
acoustic, electric, and midi guitars • vocals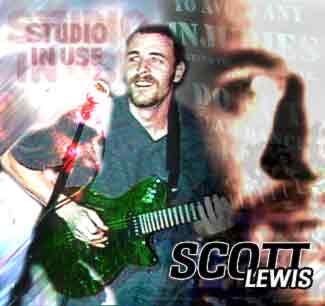 I first picked up the guitar to complete the band Outcry over fifteen years ago. Fueled by a fascination with the instrument, inspired by a progressive guitar instructor, and encouraged by my musical allies (John and Mark), it did not take long to develop a unique style. I constantly strive to use unusual chords and rhythms to give our music a lush, full sound.
I'm also a founding member of Second Story, and I remain an influential song-writing influence in the band. While I may be best-known as the band's guitarist, I've always felt that my forté has been singing. I studied voice formally for several years, and have been honored as a top choral singer in the state; I also advanced to the semi-finals of The National Association of Teachers of Singing competition, held at Mason Gross School of the Arts in 1990. I even found time to perform on stage in several musical theatre productions over the years.

I'm a computer analyst during the day, and I'm very interested in the recent developments in MIDI for guitarists. My guitar setup is testament to this; my custom designed rig allows me to instantly switch between multiple guitars, effects, MIDI sounds and pre-amps — mid-song — which offers great versatility for the band's performances.
Now
2020 bio coming soon