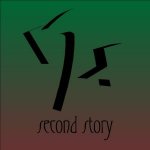 Second Story's debut album was released in 1998. Featuring 12 tracks of distinctly original music, the album was well-received and lauded by critics.
We still have new – old stock (NOS) CDs from the original run available, brand new and in their original shrink-wrap. These CDs were professionally mastered and pressed; this is not a CDR (aka "burn CD.") Comes complete in a jewel case with printed insert, and the CD features full-color printed artwork on the disc.
The album has an "adult contemporary" vibe, with clean, tight production and a laid-back feel – with occasional forays into a more upbeat format. It features standouts like "Wake," the dark, cinematic song that examines the mind of someone in difficult medical circumstances, and "Sometimes," the rollicking number about avoiding tough questions. The pensive love ballad, "Don't Know," and "Return to Youth," which reminds us of joys we may have forgotten in adulthood, are other memorable tracks on the album.
Second Story (Self-Titled) Album (1998) – Limited Original Run, Factory Sealed
$6 – includes free shipping in the USA.
Track Listing:
No One Really Knows – 5:12
Empty Dreams – 3:38
Wake – 5:09
Return to Youth – 4:34
Sometimes – 2:54
Don't Know – 4:31
voices – 3:25
Drifting Away – 4:17
Angry Men – 4:16
Never There – 5:21
(Intro to Wind) – 0:30
Wind – 5:06
All music written and performed by Second Story. Recorded at Eyeball Studios, 1997-1998. Produced by Second Story with Mike Ian. Mixed by Mike Ian. Mastered at Masterworks, Philadelphia PA. CD Duplication by Recorded Publications Laboratories, Camden NJ. Printed materials by Review Printing, Pitman NJ.
"The vocals on this CD deserve a special mentioning. Female lead singer Danielle Capoferri has a beautiful and strong voice that reminds of that of Joanne Hogg (Iona) – especially in the quieter and more reflective moments – and of Anneke van Giersbergen (The Gathering) in the darker moments. Also excellent is the use of harmony vocals of three other band members, which evoke parallels to Echolyn… All in all a strong CD, well recorded and well written. This should appeal to a wide audience."

©2000 Carsten Busch, Background Magazine
"Progressive rock fans of bands with stunning female vocals in the Northeastern corner of the United States that have discovered the up and coming sounds of Second Story are a very lucky breed. The band's self-titled and independently produced album is technically superb. Featuring twelve tracks that illustrate their collaborative breadth, it also demonstrates the members' individual versatility.

With tremendous lead vocals, wonderful vocal harmonies and excellent instrumental work, Second Story's debut album is certain to attract many listeners and be selected as one of the finest recordings independently released by a new artist this year. A must listen!"

©1999 Russell W Elliot, from Musical Discoveries