Then
Mark Gollihur
fretted, fretless, midi and
twelve string basses • vocals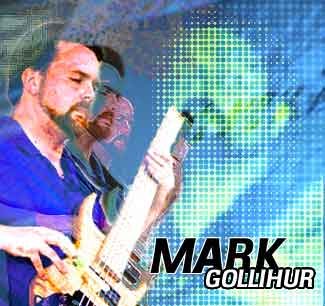 I've been playing bass guitar for over fifteen years, and singing most of my life; I also dabble in other instruments whenever possible. Once, (a long time ago…) I was honored as one of the top choral singers in the state; I also studied voice formally for a time and have performed in many choral ensembles. Like a surprising number of bassists, I started on trumpet (and other brass instruments like french horn and mellophone) and transitioned to bass as my tastes in music expanded.

I'm a primary lyricist in the band, as well as a founder and a principal songwriter. I also spend quite a bit of time creating original musical compositions; one of my songs even won a regional songwriting competition. If I ever can find spare time, I enjoy performing in regional musical theatre, and I've played several roles on stage — including starring as "Jesus" in Godspell and "Tony" in West Side Story.
I'm also the self-appointed publicity manager of the band; I'm responsible for this website, as well as the design of all the CD materials, press sheets, and most of the other promotional goodies.
Now
As of 2020, a lot has changed, and yet much is the same. I'm still very much involved in music, but much less so when it comes to live performance, at least lately.
I'm very happily married to my wife, Beki, and together we have an amazing daughter who is also very musical and theatrical.
In 2007, my good friend Josh Sager and I released a progressive rock album under the "band" name Din Within. Awaken the Man garnered lots of very good reviews, and even won some accolades (Progressive Rock Debut of the Year, Top 10 Prog New Release) from progressive rock magazines and websites around the world. (On a related note, our good friend Mike Ian – who mixed and co-produced Thin Twisting Line for Second Story – provided some amazing drumming for the album!)
For my "day job," I own and operate a successful online musical instrument store (selling BASSES!) and I still live in southern New Jersey. I also have my own personal recording studio where I still get together regularly with Scott to make music (some things never change – he was also my "best man" at my wedding). And of course, we recently teamed up to finally bring the "Thin Twisting Line" album to its conclusion.
I consider myself lucky to still be able to make music, and continue to enjoy strong friendships with my former band-mates to this day.